,


Association's life
General Assembly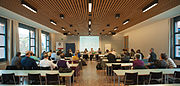 To sum up: The activity- and financial report as wel las the auditors report have been approved, the GA agreed to modify the bylaws 1.1, 1.2, 1.3 and 2.3, and a new member to the board has been elected: Stéphane Coillet-Matillon. Compliant with our bylaws, he will pick up his work as Board members 60 days after the election, e.g. by the end of May. Matina Hämmerli has not been reelected to the board. We would like to thank Matina for all her work and contribution as a Board Member of WMCH.
What has happened since our last Newsletter
Upcoming Events
Wikimedia CH Projects
GLAM: Wikipedians in Residence in the Swiss National Library
To be informed about ongoing activities of our Wikipedians in Residence in the National Library in Bern, it's best to follow them on twitter and get instant access to noteworthy news: https://twitter.com/SwissWiR
Furthermore, our GLAM partners submitted interesting talks for Wikimania in August:


Wikipedia Atelier
Save the date for 25 of May (this Saturday!) and join the Wikipedia Atelier in the Swiss National Library in Bern. This event is organized by Hadi and targets the germanspeaking Community. Get more information and confirm your attendance here: http://de.wikipedia.org/wiki/Wikipedia:WikiProjekt_Schweiz/Atelier
Wikipedia Photo-Workshop
In May, there will also take place a photo-workshop which was initiated by german-speaking Wikipedians. If you're interested to learn about photography or share your expertise and experience, make sure to attend: https://de.wikipedia.org/wiki/Wikipedia:Schweiz/Fotowerkstatt_2014
Wiki Dialog
Are you interested in discussing the question "why has it become less attractive to write high quality articles in Wikipedia"? Then join the Wiki-Dialog on the german-speaking Wikipedia and state your opinion on this issue: http://de.wikipedia.org/wiki/Wikipedia:Wiki-Dialog/Qualität
Wikimedia CH page on Wikipedia
According to the wishes of many Wikipedians, WMCH expands its presence on the German-language Wikipedia and will more strongly communicate within Wikipedia. Therefore we ameliorated and updated our WMCH page in Wikipedia. Make sure to put us on your watchlist! http://de.wikipedia.org/wiki/Wikipedia:Wikimedia_CH
Wikimania Pre-Conference Volunteers Support

WMCH, in collaboration with WMAT & WMDE, is organizing a pre-conference for Wikimania about the topic "Community Support". The target of this one-day pre-conference is an exchanging of experiences and best-practices in order to benefit from each others experiences. In case you are planning to join Wikimania and are intersted in the subject of "Community Support", make sure to participate. More information on this topic will follow soon.
Wikimedia Worldwide
Wikimedia Conference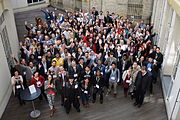 It has become a tradition that Wikimedians from all over the World meet on a weekend in spring to discuss the state of the movement. This year's conference in Berlin (11-13 April) has been well-prepared and carried out to the demand of the growing number of attendees: representatives of 37 Wikimedia Chapters, the Board of Trustees and staff of the Wikimedia Foundation, User Groups, Thematic Organizations, the Funds Dissemination Committee and the Affiliations Committee. Wikimedia CH has been represented by Patrick Kenel (President), Charles Andrès (CSO), and Emmanuel Engelhart (speaker of the session "Software development projects").
The program team and the facilitators have made this edition more interactive than previous ones. It was appreciated by many participants that the WMF Board of Trustees did not have its meeting at the same time, so they could join the sessions. Both main themes of the conference, organisational structure as well as success and impact, are also very important for WMCH at its current state of development. Among the sessions, the Chapters Dialogue got the most attention. The Chapters Dialogue is a project that consisted of an extensive interview tour of two employees of Wikimedia Deutschland to visit all the movement affiliates. The session was meant to share understandings, not solutions for various problems in the relationship between the different chapters and the Foundation.
Sadly and unexpectedly, the conference has been overshadowed by the death of one participant: Cynthia Ashley-Nelson (http://en.wikipedia.org/wiki/User_talk:Cindamuse) passed away in her sleep after attending the pre-conference with the Affilations Committee the day before.
Wikimedia DE
In case you're interested to follow the activities of Wikimedia DE, you have the possibility to read their weekly Newsletter called "Woche":https://de.wikipedia.org/wiki/Wikipedia:Wikimedia:Woche/N%C3%A4chste_Woche